Directions from South I-77
Take exit 6 (Lower Salem), turn right onto State Route 821 and go approximately 2 1/2 miles to a stop light. Turn left at the stop light onto State Route 60. Follow State Route 60 (South) for approximately 1 1/2 miles (you will go thru 2 traffic lights). Before you get to the 3rd stop light, turn right onto Front Street. The fairgrounds will be on your right. Take the 2nd right into the Main Entrance of the fairgrounds.
Directions from North I-77
Take exit 1 and stay to the right which will bring you onto Pike Street. Follow Pike Street to Greene Street. You will have gone thru 3 traffic lights. When you get to the 4th traffic light, stay in the middle lane and proceed thru the lighjt and the road turns into Greene Street. Turn Right onto Second Street. You will take Second Street all the way to the Fairgronds which is approximately 9 blocks.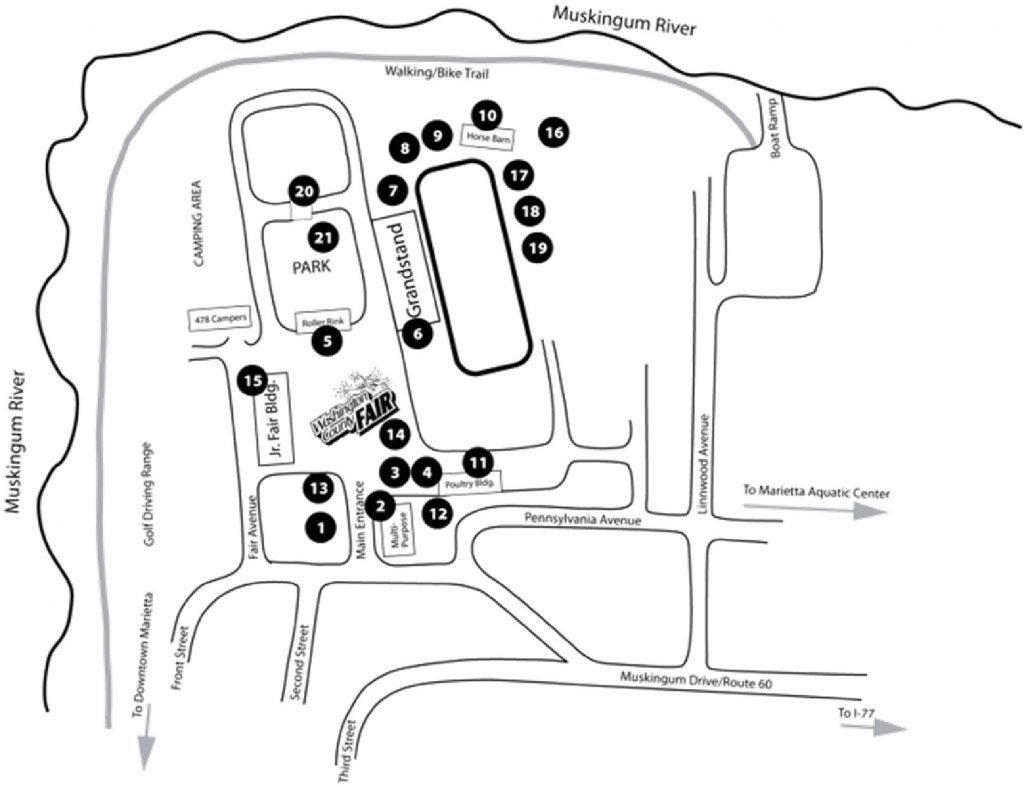 1. Karaoke
2. Cattle, Sheep, Goat Barn and Arenas
3. Fair Board Office
4. Home Arts
5. Merchants Hall
6. Grandstand
7. Outside Exhibits
8. Race Horse Barn
9. Race Horses
10. Horse Barn
11. Poultry and Rabbit Building
12. Cattle Tie-Outs
13. Outside Exhibits
14. Outside Exhibits
15. Jr. Fair Building
16. Horse Arena
17. Concession Stand
18. 4-H Horse Barn
19. 4-H Horse Barn
20. Clubhouse (aka Civitan Building)